What we do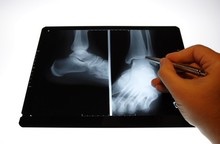 We comprehensively assess and treat all types of foot and foot-related leg problems.
We have particular skills and experience in treating common or complex pain conditions including:
Heel pain/ plantar fasciitis
Arch, ankle and related shin, knee or back pain
Bunions and toe misalignment/ forefoot pain.
"Flat feet" ( rolled in/ over pronated feet)
Hypermobility
Abnormal foot alignment and leg length differences.
work related foot problems. We manage injured workers and consult with local employers on footwear for their work force.
arthitic & diabetic foot issues
ingrown toenails, corns & callouses ( including effective nail surgery under local anaesthetic where required) dermatological foot disorders.
We treat all ages from infants to the elderly.
We regularly enjoy helping children with foot, ankle or gait issues, sports injuries, foot ankle & leg pains, toe walking, shoe fitting issues, dermatology or nail issues
Some of the specific conditions we treat
Foot pain, Heel pain, plantar fasciitis, heel spurs, flat feet, foot pain, neuromas, bursitis, bunions, hammer toes, claw toes, achilles tendonopathy, tibialis posterior tendonopathy, ankle problems, chronic pain, CRPS, sports injuries, shin splints, children's gait disorders, leg length discrepancies, ingrown or abnormal toe nails, corns/callouses, blisters…….
Footwear Store
We also have an onsite footwear store with a range of comfort and orthotic friendly shoes for women and men.
We also have an in-depth knowledge of footwear available at local retailers and can refer you appropriately, to help you find the best shoes for your feet and stop wasting money on shoes that don't work for you!
We know that if you need to wear orthotics, or if you've got wonky feet, you still want nice shoes!
---
Insurance Accepted
Assurance
Registered Podiatrists with AHPRA,
Members of The Australian Podiatry Association,
All instruments autoclave sterilised,
Practitioners regularly participate in ongoing education to bring you the most up to date treatments.